Marco Mazzeschi
1. Some good reasons to invest in Tuscany
2. The Investors' Visa
3. Other options? Create your own "start-up" company
4. Invest in an existing Start-up
5. Start your own business
6. Investing in real estate
7. How can you obtain permanent residency
8. How can you acquire Italian citizenship?
9. Favourable flat-tax regime for new residents
1. Some good reasons to invest in Tuscany
Tuscany's gross domestic product (GDP) corresponds to 6.80% of the total Italian GDP. The main industries that drive Tuscan's economy are tourism (with over 11.5 million arrivals [4.7 Million foreigners] and 41.5 million presences in accommodation [more than 20 million foreigners]), fashion (tanned skins, leather goods, yarns, textiles, knitwear, clothing and footwear account for over 30% of exports), life science, yacht building, smart industry and robotics. Even though large companies, especially engineering companies (in Florence, Pistoia and Pontedera) play an important role in the regional economy, a large number of SMEs have gone to make up a system. They have built up concentrated areas of production activities that are strongly integrated with each other. Each town or area of the region has its own specialised economy. In addition to the tanning and textiles and clothing sectors, the sectors that stand out as more specialised than in Italy as a whole are goldsmithery and furniture production. Specialised manufacturing is distributed varyingly over the region. There are several kind of incentives and tax benefits for foreign investors willing to invest in the region. According to a recent survey conducted by the Financial Times, Tuscany is in the top 10 European most attractive locations for foreign direct investments.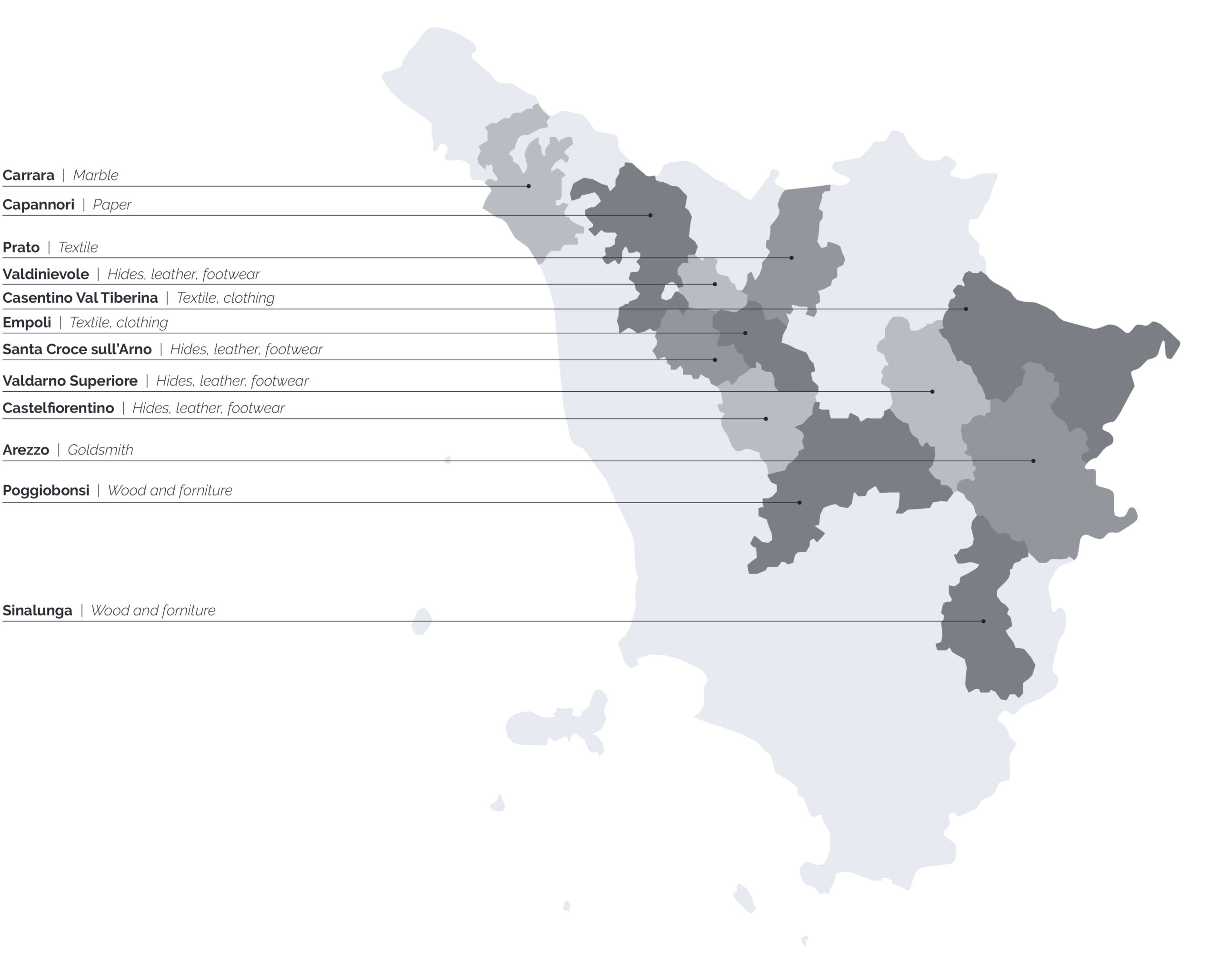 2. The Investors' Visa
Italy has introduced last year a specific visa for investors seeking to enter Italy to engage in capital investments that benefit the Italian economy. The Visa can be obtained by: (i) purchasing € 1 million in Italian government bonds (to be kept for a period of at least two years); or (ii) investing € 500,000 in a company or € 250,000 in a "innovative start-up"; or (iii) donating € 1 million in philanthropic projects of public interest. Applications for the investor visa are filed online with the Ministry of Economic Development (MISE). The investors visa holder shall receive a two years investors' residence permit (permesso di soggiorno "per investitori"), renewable for an additional three years further to the approval from the MISE's Committee.
3. Other options? Create your own start-up company
An interesting option for those who wants to relocate to Italy and start a business, is the "start-up visa", which is aimed to non-EU nationals intending to set up an innovative Start-Up (companies that meet the conditions set forth by Law 221/2012). Tuscany in general, and Pisa in particular, is a center of excellence for robotics, mechanics and mechanical engineering as well as for companies and research institutions in the ICT sector (Photonics, Optoelectronics, Telecommunications, ICT, SPACE, electronic components). To obtain the visa the applicant must: (i) prove the availability of at least € 50,000 to be used for the sole purpose of establishing and operating the Start-Pp; (ii) submit a detailed business plan. The key for obtaining the clearance from the MISE is being able to submit an "innovative" project: the MISE's Committee will in fact focus its exam on the viability and novelty of the project, while the availability of funds is only a technical requirement that confirms the applicant's ability to start the proposed activity. Family members are eligible to obtain a family residence permit.
4. Invest in an existing Start-up
Investors who intend to join an existing Start-Up can obtain a work visa but must make sure that: (i) the investment is for at least € 100,000 (ii) they will be appointed as chairman, CEO, member of the board of directors or auditor (iii) they will also work as self-employees for the company (i.e. as independent consultant, etc.). The law gives the possibility to file the application through a certified incubator i.e. an Italian company having specific features and that can host Start-up and help them by providing technical, legal and management support, as well as equipment and a space where the Start-Up can develop their business.
5. Start your own business
If you do not qualify for a start-up visa but you still intend to carry out some activities in Italy, you can register an ordinary company. With few exceptions, Italy allows foreigners to register a new company entirely owned by foreign individuals or companies. Also, there is no requirement to appoint an Italian citizen as one of the directors and/or hire local workers. A self-employee visa as company's owner or director can however be obtained only when a company has been in activity for at least 3 years. A newly established company cannot therefore be used for the purpose of obtaining a work visa, but if the company is adequately funded, it can hire immediately non-EU workers, without need of hiring a certain number of local workers. This option is doable only for highly skilled workers who have at least 3-year University diploma, to be validated by the Italian Consulate. Differently from low skilled workers, this visa is not subject to any quota limitation. The law does not set any limits for using newly established companies for sponsoring work visas (such as minimum capital or turn-over, number of local workers) but it leaves an ample discretion to the Immigration Office to assess the company's financial ability to carry out the business and bear all charges relevant to the workers. Accordingly, it is always advisable to start a new business with adequate and substantial funds, in addition to the minimum € 10,000 capital that is required to register a limited liability company (S.r.l.), so hat to be able to prove to have the financial means for carrying out the planned business.
6. Investing in real estate
During last few years Florence has been the target of major transactions from foreign investors who have purchased historical and valued buildings which are being converted into hotels and luxury apartments. The Regional Government itself owns assets equal to € 650 Million which are on sale and include several historic buildings and prestigious sites. The purchase of real estate, from a legal standpoint, is very safe in Italy. Notary Public, a government appointed officer who must execute all real estate transactions, must carry out a legal due diligence on the property to make sure that the seller has the full title, that the property is free from mortgages, liens or other burdens, and it is compliant with building and safety regulations. If you buy a property under construction, the builder – until Closing is finalized – must provide a bank or insurance guarantee equal to price paid. The buyer is therefore protected against the builder bankruptcy or failure to complete the project. Furthermore, the seller is liable for major defects of the property until 10 years after the Closing. While the purchase of a property does not automatically grant a visa, it is still possible to obtain a kind of 'retirement visa' (residenza elettiva) by proving a "passive" income (i.e. pensions or savings, not a salary or compensation for work) of not less than € 31,000/year. Consulates have full discretion to request a much higher income, and they usually do. Certainly, if the applicant has purchased a property of value there is a higher chance of obtaining the visa. However, the deciding factor shall be the ability to prove a steady wealth, with appropriate documents, such as bank statements and tax returns.  The 2020 Corona-19 emergency has hit hard the Italian society and its economy. It is early to assess any impact on the residential real estate market. According to Nomisma, there will likely be a sharp drop in the real estate market for residential homes . As to prices, in the three years 2020/2022 they could decrease on average between 3% and 10%. On the other hand, due to the limited mumber of properties availavable in historical centres of the main cities as well in prestigious tourist locations (where it is not possible to build or expand any new property), prices of residential real estate will most likely remain steady. The expected reduction of tourists and international students will pose a risk to properties destined to short term rentals and student housing.
7. How can you obtain permanent residency?
After five years of legal stay and provided the eligibility requirements are met, a foreign national can apply for permanent residency i.e. EC residence permit for long term residents, valid indefinitely. Family members of investors visa/permit holders are eligible for a residence permit for family reasons.
8. How can you acquire Italian citizenship?
Italy does not offer a specific citizenship by investment program. You can be entitled to citizenship if you have ancestors who were Italian citizens or by marrying an Italian citizen. If you have invested in Italy and obtained residency, you can apply for citizenship after ten years (four years for EU citizens) provided that you have maintained a valid registration with the City Hall and you prove to have paid taxes at least three years before filing the application.
9. Favourable flat-tax regime for new residents
Investors can also take advantage of the new Flat-Tax regime for new residents. In fact, individuals transferring their tax residency in Italy can take advantage of a substitute tax regime on their foreign income. Regardless of its amount, foreign income will be subject to a yearly flat tax of € 100,000. Close family members can also benefit from the favourable tax measures: a flat tax of just € 25,000 – instead of € 100,000 – will be applied to their foreign income. Moreover, opting for the new regime guarantees full exemption from reporting requirements with respect to financial and non-financial assets abroad and from succession duties on assets outside Italy. To qualify for the option the applicant must not have been resident in Italy for at least nine tax years during the previous 10 years.