Villa "OLGA BASILEWSKY"
The Villa, built in a neoclassical style, was built between the end of the nineteenth century and the beginning of the XXth century and was donated to the city by the aristocratic family Basilewsky. The complex is situated in front of the famous Fortezza da Basso, in the heart of Florence.
The property, for its central location in front of the new tramway, is ideally suited for redevelopment in senior citizens' residence or exclusive headquarters.
Surface: 1.684,62 sqm.
Villino "PASSERINI"
The building consists of 4 floors, once used as a luxury residential house, later adapted for directional destination.
Surface: 729,25 mq.
Villino "BORCHI"
The building consists of 4 floors. The characteristics of the building are similar to those of Villino Passerini, since it was built in the same period.
Surface: 895,60 sqm.
Building called "ENLARGEMENT
The building was built around 1960, the structural characteristics of the property are those typical of the buildings of the time, for a cadastral area of 2.732,80 sqm.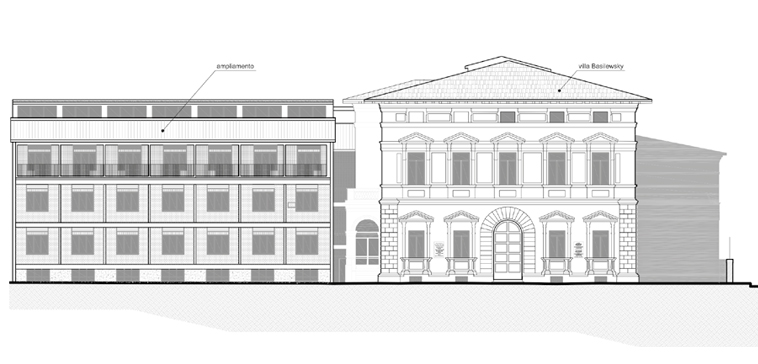 Villa Olga Basilewsky
Viale Filippo Strozzi, 54, 50129 Firenze, Italy
The Regional Government of Tuscany  intends to launch an informal alliance with (subjects) interested in the purchase/enhancing of valuable properties owned by the Region of Tuscany and the Health Authorities of Tuscany.This notice is intended to establish a possible interest to purchase the properties covered by the notice and thus constitutes a simple invitation to express interest in purchasing.